Crossroads has been providing outpatient Medication-Assisted Treatment for over 17 years to people suffering from dependence to heroin, pain medication, or other opiates.
We understand that you may have work, family, or other responsibilities that make the realities of your addiction that much more serious. This realization can make attending typical forms of treatment seem out of reach. MAT has proven to be the solution to this dilemma for many patients who have been successful in treatment. 
Since 2005, Crossroads has been at the forefront of treating patients with opioid use disorder. Currently operating more than 120 clinics across 10 states, Crossroads is a family of Doctors, Nurse Practitioners, Counselors, and Professionals dedicated to providing the most accessible and highest quality treatment options to combat the growing opioid epidemic and helping people with opioid use disorder start their path to recovery.
Based in Greenville, South Carolina, Crossroads operates over 30 opioid treatment programs and around 100 office-based opioid treatment clinics in Colorado, Georgia, Kentucky, New Jersey, North and South Carolina, Pennsylvania, Tennessee, Texas, and Virginia. Crossroads uses evidence-based medication-assisted treatment (MAT) to help individuals struggling with opioid use disorder. This comprehensive approach to treatment, the gold standard in care for opioid use disorder, has been shown to prevent more deaths from overdose and lead to long-term recovery. We have helped people who are engaged with MAT enter recovery, rebuild relationships, obtain and sustain employment, become engaged parents, and create better lives for themselves, their families, and their communities.
We are committed to bringing critical services to communities across the U.S. to improve access to treatment for those who need it most. Each clinic across the Crossroads network offers the same level of professional accessible quality care for the more than 26,500 patients we serve every month. At Crossroads, best practice is the only practice we know.
All Are Welcome at Crossroads
Crossroads strives to improve health equity and create superior outcomes for each of our patients, and that mission applies to how we approach every facet of our business. Our commitment to diversity, equity, and inclusion inspires our associates to share and celebrate their distinct backgrounds and talents while guiding our patients along their individual journeys to recovery. At Crossroads, we're dedicated to welcoming all who approach us, whether they need our help or administer our care – an inclusive environment is a more innovative and successful one.
We exist to improve health equity in order to create superior outcomes.
To provide the most convenient, comprehensive, high-quality care through specialty medical homes.
Our culture is based on one simple tenet: we will treat others as we would like to be treated – with respect and empathy. We pride ourselves on how we serve our patients. Our INSPIRE culture sets us apart in how we interact not just with patients, but with our communities and each other on a day-to-day basis; it is how we do what we do. For us, the word INSPIRE serves as an acronym that articulates the seven characteristics that are the foundation of our culture.
We try to think ahead and prepare for what patients and other members of our team may need before they ask. This includes everything from considering our patients' preferences when scheduling appointments to being a back-up for a teammate who is busy with a patient.
It is critical that we provide an environment for our patients where they feel cared for and encouraged. We may push our patients outside of their comfort-zone to help them grow, but we always do so in a manner that demonstrates support and guidance.
Communication is key in any place of employment. Particularly with what we do, it is critical that we are constantly speaking to our patients and reaching out to each other so that there is never any confusion or split among the team.
While we can't always control what people think of us, managing perceptions is another important part of what we do. We work to manage public perceptions by educating the public and being mindful of how we present ourselves to patients, to each other, and to the community.
We have learned that the best way to help patients is to work together as a team. We use the word "we" a lot because the nature of our treatment program – combining counseling, medicine, and administration – is a team effort.
Our goal is to be respectful in every interaction – even when we are not treated with respect. Our patients have chosen the difficult path of recovery and that alone is worth respecting.
While some of us may have personal experience with addiction, it is important that we all strive to put ourselves in each other's shoes. Understanding where others are coming from and not being afraid to go there with them helps us be more than just sympathetic.
INSPIRE is not just what we do, it's who we are. It is how we demonstrate our commitment to customer service, our commitment to our mission, and our commitment to each other. Treating our patients with compassion and respect is absolutely central to what we stand for. We are judged by how we treat our patients with each and every associate contact. One of our first priorities is to assist those that we serve in a way that is both caring and professional, always placing the patient's wellbeing first.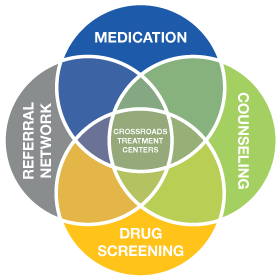 We specialize in treatment that combines medication, counseling, drug screening, and a referral network to give you the best chance to succeed in treatment.
We do not simply hire a doctor to provide medication and send you on your way, as that would only deal with the biological effects of your addiction. Our staff includes counselors, clinical supervisors, nurses, and other service coordinators. While your medication is working to eliminate your withdrawal symptoms and cravings, your counselor is working with you on creating your Path to Recovery through building recovery and relapse prevention skills. Each member of the Crossroads team specializes in an area that will support your recovery.
Medical assessments of your addiction, health status, and treatment needs
Clinical assessments of your addiction, history, and counseling needs
Individualized treatment planning and individual or group counseling
Medical care directed by our on-site physician, including your treatment medication 
Coordination with local agencies and service professionals to provide resources for other services you may need